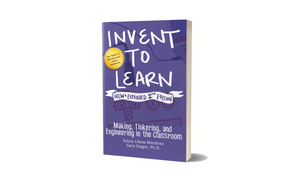 Invent to Learn: Making, Tinkering, and Engineering in the Classroom
Regular price $34.95 Sale
By Sylvia Martinez and Gary Stager
Invent to Learn, written by Sylvia Martinez & Gary Stager, Ph.D., is a book that lays out both the "why" and "how" of classroom making experiences that encourage students to invent and create. This book covers everything from pedagogy, to tools, to finding funding and persuading parents and administrators. Join the maker movement with this practical guide!
Sylvia Martinez is President of Generation YES, a non-profit with a mission of empowering young people to improve their schools and communities with modern technology. Sylvia works in schools around the world to bring the power of authentic learning into classrooms, particularly in Science, Technology, Engineering, and Math (STEM) subjects. Sylvia speaks, writes, and advocates for student-centered, project-based learning, gender equity in technology, computer programming, and life-long learning. Previous to Generation YES, Sylvia was in charge of product development at several software publishers, designing and creating video games and educational software. Sylvia also had a career in aerospace engineering as a senior scientist on the GPS navigational satellite system research and development. She holds a masters in educational technology and a bachelors in electrical engineering.
Gary S. Stager, Ph.D. is one of the world's leading experts and advocates for computer programming, robotics and learning-by-doing in classrooms. In 1990, Dr. Stager led professional development in the world's first laptop schools and played a major role in the early days of online education. In addition to being a popular keynote speaker at some of the world's most prestigious education conferences, Gary is a journalist, teacher educator, consultant, professor, software developer, and school STEM. Director. An elementary teacher by training, he has taught students from preschool through doctoral studies. Gary is the founder of the Constructing Modern Knowledge summer institute for educators.